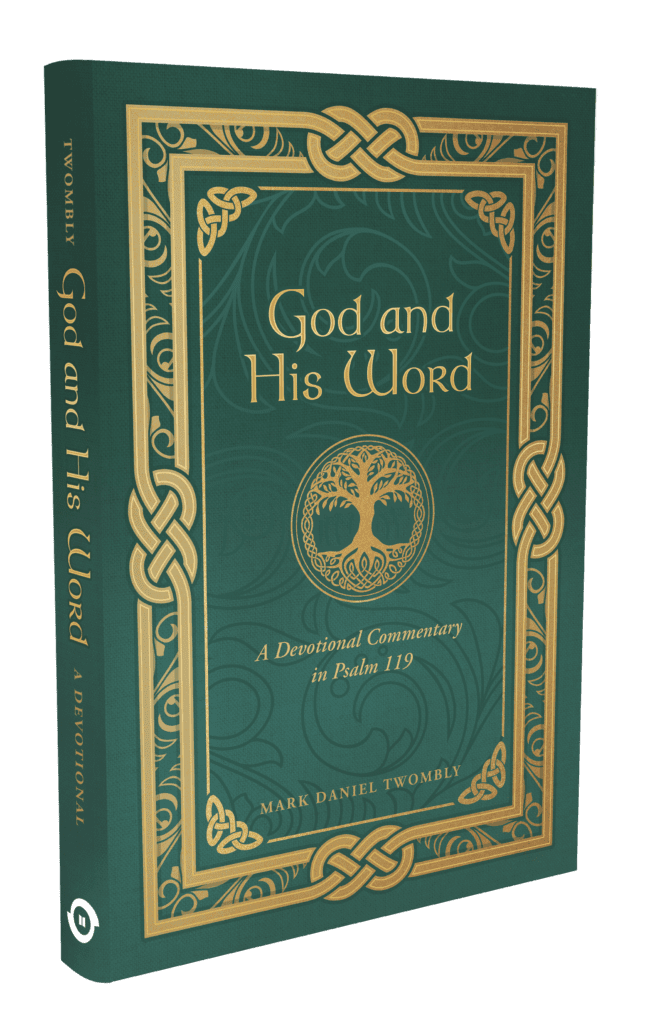 A Devotional Commentary in Psalm 119
Do you desire the delight and joy described in the Bible, but find it elusive? Do you find yourself struggling to move from obligation to heartfelt desire? Do you desire more than information, but deep transformation? If so, this book is for you. Psalm 119 is a prayer to God for all of these things, and a personal answer from the Lord Himself. The infinitely perfect God of the universe draws near to perfect those who walk in His law, observe His testimonies, and seek Him with all their heart. How does He do this? He provides the knowledge, understanding, desire, ability, and delight; He initiates, sustains, and completes it all.
This devotional commentary is a companion and a tour guide to help you toward a growing realization of the incalculable treasure that God in His mercy has placed before you in His word. You will be blessed beyond measure as you experience God's presence as He speaks personally and powerfully to you by His perfect Word.
Few people in my life have modeled the principles and passion of Psalm119 more than Mark Twombly. In the formative days of my spiritual growth, the Lord blessed me with the godly example of a man who found the Word of God sweeter than honey, better than thousands of gold and silver pieces. He read it, meditated on it, memorized it, taught it, and rejoiced in it as one who finds great spoil. To this day, I recognize that I've memorized portions of Psalm 119 because of how many timesI heard Mark quote them to me in conversation.
Those are just some of the reasons why it is a joy for me to commend this volume to you. It represents a faithful disciple's lifelong pursuit of glorifying God by treasuring His Word. It is birthed out of daily walking with Jesus through the trials and triumphs of ordinary life.
With helpful insights drawn from other sound teachers, this devotional has the aroma of Christ—bearing plentiful evidence that its author has been with the Lord. The benefits of that communion will prove an immense service to fellow students of the Word.
Mark Twombly's love for the Word of God is compelling and contagious. Mark's encouragement to me and others to dwell deeply with God through his Word was invaluable to us as a young church plant in New Jersey. His desire is for people to delight in God and to drink deeply from the true source of living water. Mark's example has me hungry to engage the 119th Psalm afresh through this new book.
Mark Twombly has a heart for the Bible because he has a heart that desires to know God. This book overflows with a passion for the God who has spoken. Mark's fervent love for the Scriptures and for the God who wrote the Scriptures is evident throughout. I have known Mark for a number of years and I know something of the depth of his love for the Word of God and for the God who inspired it. I know of no one better to write a devotional book on Psalm 119. Anyone who desires to have a greater fervency for the God of the Bible will profit from Mark's devotional thoughts. Read this book—it is contagious.
God and His Word delves into the beauty and power of God's Word with a profound and accessible approach. Mark's insightful commentary on Psalm 119 provides spiritual nourishment for the hungry soul and challenges us to take God's Word more seriously. As readers journey through the book, they will resonate with the psalmist's own cry, 'Open my eyes, that I may behold Wonderful things from Your law!'
The hours Mark Twombly has invested in reading and reflection shine through with honesty and transparency. Reading this volume was especially interesting to me because I know Mark. The objective of Psalm 119 is the same, taking us past the words and principles to a relationship with the Author. Many people read Scripture for the sake of reading it; others stop merely at the principles of living without truly knowing the Lord Himself. Mark calls his readers not just to the beauty of the psalm, or the guidance for living, but to join with him into a more intimate relationship with the God who wrote it.
In addition to the devotional benefit made to the reader, Mark has done a great service to the reader by drawing from voluminous commentaries to provide any student or teacher with excellent quotes about each verse. In addition, he connects the patterns of words and phrases from the original Hebrew in a way that is helpful to both those who are familiar with the language, as well as to those who have never studied it. Mark captures in one volume an aid in both spiritual growth and biblical scholarship, yet in a readable and enjoyable manner.